This is a weekly meme hosted by
Book Journey
. In order to get some consistency to my posting I thought I'd jump on board this great idea. As a self-proclaimed bookaholic, I love talking about my books and finding out what others are reading. Having been a long time reader of multiple blogs where the 'It's Monday! What Are You Reading?' post is prevalent, I thought it a natural progression I'd add to the mix.
WHEN YOU RUN WITH WOLVES by Robert White
Kidnap, robbery, bombs and guns. Then it all went wrong...
Jack Trichaud only wanted a quiet life in small town Ohio. But when you're in possession of nearly a million dollars from a bank robbery gone wrong, life is anything but quiet. On the one hand, Agent Pippin is searching for the evidence that will pin the robbery on Jack and send him away for a good long time. On the other hand, violent White Power thug Calderone – aided by his merciless girlfriend and Jack's own long lost brother – wants the money and he doesn't care who he has to hurt to get it. In fact, the more pain Jack suffers the happier Calderone will be.
Jack has more than a few cards up his sleeve, but blood will be spilled and he's going to need every trick in the book to make sure it's not his. Or not too much of it, anyway.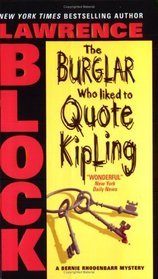 THE BURGLAR WHO LIKED TO QUOTE KIPLING by Lawrence Block
Bernie Rhodenbarr has gone legit -- almost -- as the new owner of a used bookstore in New York's Greenwich Village. Of course, dusty old tomes don't always turn a profit, so to make ends meet, Bernie's forced, on occasion, to indulge in his previous occupation: burglary. Besides which, he likes it.
Now a collector is offering Bernie an opportunity to combine his twin passions by stealing a very rare and very bad book-length poem from a rich man's library.
The heist goes off without a hitch. The delivery of the ill-gotten volume, however, is a different story. Drugged by the client's female go-between, Bernie wakes up in her apartment to find the book gone, the lady dead, a smoking gun in his hand, and the cops at the door. And suddenly he's got to extricate himself from a rather sticky real-life murder mystery and find a killer - before he's booked for Murder One.